Went out on a limb and made my own pizza tonight – from scratch! I typically grab the @traderjoes handy dandy pre-made dough but tonight I said WHY THE HECK NOT and did the dang thing myself. To top it off – decided to make it a deep dish! This pizza is so delicious and also very versatile. you can pile it high with whatever you like – it just so happened that I love a ton of veggies, @morningstarfarms crumbles & my homemade cream sauce. Here's how: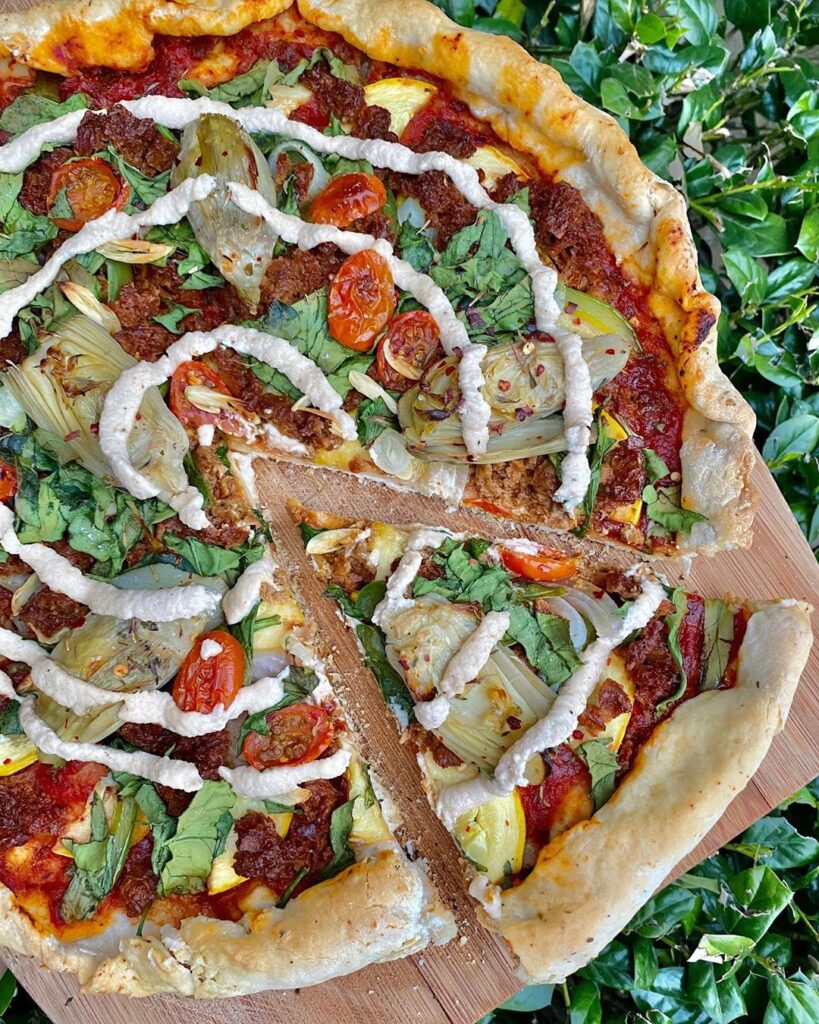 SUPREME DEEP DISH PIZZA ?
Course: Lunch, Dinner
Cuisine: American
Deep dish does the trick! Pile it high with whatever you desire – no cheese needed!
Ingredients
Dough

3 cups flour

1 packet active dry yeast

1 tsp salt

1 tsp sugar

1 cup warm water

Pizza Toppings: 1 1/2 to 2 cups any veggies you would like I used

I handful of spinach (chopped)

4 – 5 artichoke

2 garlic cloves (chopped)

1/4 white onion

1/4 squash

1/2 small green bell pepper

6 cherry tomatoes

1 large handful of vegan crumbles ( I used @morningstar)

1/2 – 3/4 cup pizza sauce (I made my own – you can find that detail in the note section)
Directions
Dough
Pour warm water in a bowl and lay yeast on top – let sit for five minutes
Combine oil, salt and sugar and add to the yeast mixture
Slowly add in flour until it becomes a ball – kneading as you go
Place 1 tsp of oil in a bowl, add dough and let rest in a warm place for 45 – 1 hour so it can rise
Pizza Filling
Create pizza sauce if needed by combining tomato sauce and seasonings ( Check Notes)
Chop all desired veggies thinly
Once the dough is ready, knead into a ball on a lightly floured surface
Roll into a 1/2 inch thickness. Meanwhile, lightly oil your skillet and season with oregano, basil & garlic powder.
Placed rolled dough over your oven-safe skillet
Start by adding your tomato sauce and spreading evenly and add desired toppings
Roll down the dough at the edge of the skillet and braid down, tucking as you go.
Brush the crust with some oil and season the pie with some salt, red chili flakes, basil & oregano
Bake for 20 – 30 mins
Enjoy and top with sauce!
Notes
 I created my own using a canned tomato sauce and the seasonings listed: 1/2 tsp oregano, 1/2 tsp basil, 1/2 tsp thyme, 1/2 tsp salt, 1/2 tsp pepper, 1/2 tsp red chili flakes, 1/2 garlic powder, 1/2 tsp onion powder1/2 tsp basil