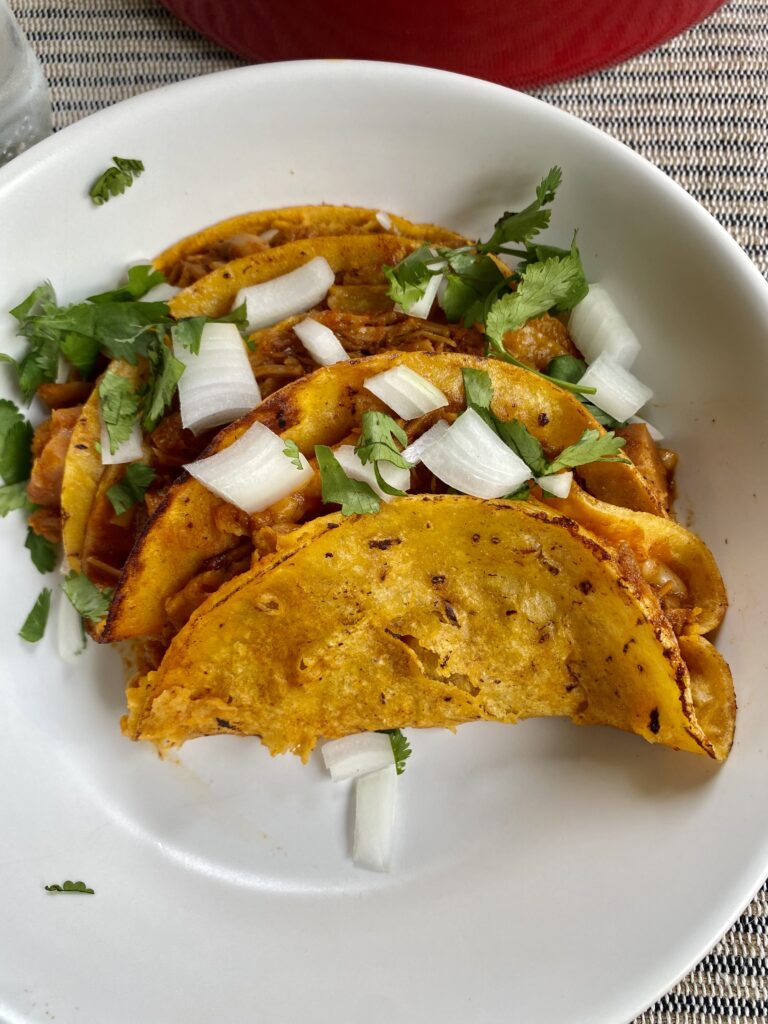 The hottest trend on TikTok has finally arrived and has been deliciously veganized by yours truly. Before we begin we have a lot of ground to cover! Buckle up and let's ride to flavor town.
Birria tacos have been around long before this Tiktok trend has swept the internet. Birria tacos originated out of Mexico in the '60s from a man named Don Guadalupe Zarate. For those that don't know, a birria taco is a traditional Mexican dish made from a pepper-based stew with a braised meat of choice. It is typically served in a crispy taco with Oaxacan cheese, cilantro, lime, and onion along with a bowl of consumme (aka the Mexican stew). It is typically made with beef but can be made with veal, lamb, or pork. Since this is a vegan site, we will of course abstain from the non-vegan meat talk, but it's still important to know the history behind dishes! With that being said, birria quite literally means, " exquisite savory dish, full of culture and tradition."
It was so much fun trying to figure out how to veganize this dish and still maintain the integrity of the culture behind it. Although, veganizing dishes comes with its gives and takes. Therefore, this is not a 100% authentic take on Birria tacos. It is quite literally my closest interpretation. Although, I will say that it is still 1,000% delicious. Let's get into some key points before we dig into this recipe!
IMPORTANT TOOLS
Blender, Food Processor, Hand-held Blender
Small strainer
THE BREAKDOWN
Seasonings: You can find all of these seasonings in the Mexican seasoning section at almost any store. I found mine at Walmart and used the Fiesta brand. All the seasonings I used in the recipe are authentic Mexican seasonings but if you can't sub all the seasonings I suggest you at least go out and grab these four!
Guijillo Peppers: This is the base of your marinade/consume and is essential to the recipe. Quite literally, this helps give the marinade its classic taste. It has a mild heat range of 2,500 – 5,000 so if you have a more mild heat tolerance be sure to really clean out the seeds of this pepper before using.
Chipotle Peppers in Adobo: This is what gives your marinade that smokey, iconic taste. This is not a "maybe" on the grocery list, this is a must. You can find this in the Mexican section of any store because its just that good!
Comino Seeds: Also known as cumin! This is essential to this recipe as it truly harvests a more traditional flavor than the powdered bottled stuff.
Mexican Oregano: Mexcian oregano is a fresher and more traditional use of oregano for this dish. Please use this instead of the italian seasoning you would find in your pantry!
Protein
For this recipe, I used canned Jackfruit in a brine. I chose jackfruit because of its meaty texture – you can find jackfruit most commonly at Trader Joe's. You can also always use your handy dandy Google and search, "Jackfruit near me." If Jackfruit is not an accessible option for you I highly suggest the base of an oyster mushroom. It also has a meat-like texture that is perfect for this dish. Be sure to grab at least two pounds of the oyster mushroom if you decide to go that direction.
HOW TO MAKE CHICKEN-LESS CHICKEN STOCK
I make vegan chicken stock all the time; although I understand this is not accessible to everyone. Here are three options for this recipe!
Add 1 tbsp of Trader Joe's Chicken-less Chicken seasoning to 4 cups of water
Sub with 1 quart of vegetable broth
Add 1 tbsp vegetable bouillon to 4 cups of water
I try to typically keep things short around here so without further-a-due lets get into the recipe!
Vegan Birria Tacos
Course: Lunch, Dinner
Cuisine: Mexican
Difficulty: Beginner
Cooking time
1
hour
30
minutes
Buckle Up!
Ingredients
Jackfruit

2 cans jackfruit

1/2 cup vegan Worcestershire sauce; Low-Sodium Soy Sauce or Liquid Amino's

Salt to taste

Pepper to taste

Marinade

3 guijillo chiles

1 can chipotle peppers in adobo

1 whole large yellow onion

1 large vine tomato

5 cloves garlic – whole

1/4 cup white vinegar can sub for apple cider vinegar

1 tsp liquid smoke; or smoked paprika

1 1/2 tsp Mexican Oregano

1 tsp comino seeds

Stew

I whole yellow onion – diced

1 cinnamon stick

2 bay leaves

6 cloves garlic – whole

1 quart Chicken-less Chicken Stock or Vegetable broth (see subs above)

hefty pinch of salt

Tacos

4 inch corn tortillas ( as needed)

1 medium yellow onion – chopped

1 bunch cilantro – chopped

vegan mozzarella shreds of choice
Directions
Jackfruit
Take your jackfruit out of the brine and wash thoroughly ( I was my jackfruit twice over). Drain the jackfruit by squeezing with all of your muscle power, dry on a cloth, and set aside.
Add Worcestershire, salt and pepper mix and set aside until read for use.
Marinade
Begin by deseeding your Guajillo peppers, ensure there is no seed left unturned!
Add to a boiling pot of water – boil for 5 minutes on high heat and set aside to soak in the water for 15 minutes.
Meanwhile, add a tbsp of oil to a medium-sized pan and set to medium-high heat. Add your onion, garlic cloves, and tomato. Cook until you see a nice char (about 2-5 minutes if your pan is hot enough).
After your peppers have soaked 15 minutes, add Guajillo peppers, 1 cup of pepper water, charred onion, tomato, garlic, and the rest of the marinade ingredients to a blender or food processor. Blend until smooth.
Taking a small strainer, drain the sauce on top of the jackfruit. Discard any leftover pulp, cover the jackfruit and set in the fridge for a minimum of two hours.
Now is a good time to clean up your space!
Stew
After your jackfruit is marinaded, add two tbsp of oil to the bottom of a large pot – add your chopped onion and cook until translucent ( 6-8 minutes on a low-medium heat).
Next, add your marinaded jack fruit and the rest of your stew ingredients and let cook for a minimum of 2 hours. If you have a pressure cooker, cook for 45 minutes.
Tacos
Once your stew is complete, its time to make your tacos! Dip your corn shell into the broth and add to a pan along with 1 tsp of oil.
Immediately add cheese and jackfruit from your stew. Flip once your shell is nice and crispy.

Serve with cilantro, lime, onion and broth from the stew for dipping!
Notes
Make sure your pan is on a medium high heat when cooking taco shells; helps with the crispiness.