DINNER WAS A KNOCKOUT TONIGHT! I was craving something homey – and what's homier than BBQ? I wanted to do something that was non-grilling friendly (cause we can do BBQ right in the house!) I honestly can say my taste buds were #satisfied and I could not wait to share this with everyone! so here's what's pictured – BBQ tofu steaks, baked beans, roasted corn, roasted sweet potato, MAC AND CHEESE – side note I've always been lowkey scared to make vegan mac and cheese but this is something that is fun and can be played with!! I made the mac and cheese with Miyokos Creamery smoked and regular mozzarella, Kitehill cream cheese, and Violife foods Cobey jack shreds – official details below (CAN'T BELIEVE IM SAYING THAT!!!) and lastly the kale salad. I truly hope everyone had an amazing weekend! As always stay safe – love you all!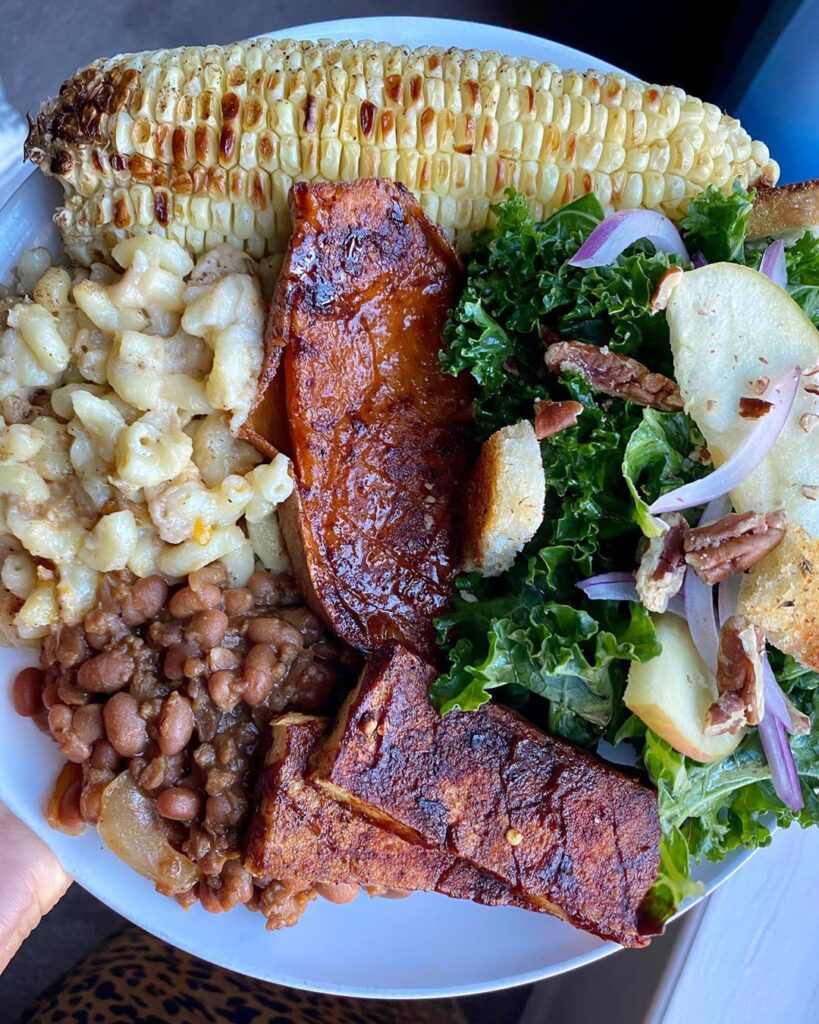 BBQ DINNER PLATE!!!
Course: Lunch, Dinner
Cuisine: BBQ, American
BBQ in the house – cause we bored in the house and we in the house bored!
Ingredients
BBQ Tofu Steaks

1/2 block firm or extra firm tofu

1 tsp liquid smoke

1tsp olive oil

1 tsp smoked paprika

1 tsp garlic powder

1/2 tsp red chili flakes

2-3 tbsp vegan BBQ sauce

Mac and Cheese

2 cups macaroni noodles

2 tbsp vegan butter

1/2 @traderjoes vegan garlic spread

1/2 @kitehill  vegan cheese

1/2 @miyokoscreamery Smoked Mozzarella

1/2 @miyokoscreamery Mozzarella Block

1 1/2 cup @violife_foods Colby Cheese

Pepper to taste

Dash of Paprika

Baked Beans

1 can Vegetarian Baked Beans

1/4th white onion

3 cloves garlic

1/2 Trader Joe's Beef-less Beef

Open-Faced Sweet Potato

1 large sweet potato

1 tsp olive oil

1 tsp brown sugar – per side

1/2 tsp sugar -per side

Dash of cinnamon

Corn

Fresh corn

1 tsp vegan butter

Salt and pepper to taste

Garlic powder to taste

Kale Salad

1/2 pack pre-washed kale

1/2 lemon squeezed

1 tsp olive oil

1/2 Fuji apple thinly sliced

1/4 red onion

Croutons ( 1-2 sourdough bread, slathered with vegan butter, oregano and garlic powder and heated on broil until crispy)
Directions
Mac and Cheese
Boil your macaroni noodles over a rolling boil of water with salt.
Once tender, strain and add 1/2 Kite Hill cream cheese and mix to cover each noodle evenly – set aside.
Heat up a large skillet with 2 tbsp vegan butter
Add in your 1/2 package of vegan garlic spread and Voilalife cheese and bring to a low simmer
Add in your noodles and mix well
Set your oven to 375
Grabbing an oven-safe pan – spay it down, and begin to lay half of your macaroni and cheese in the pan. Top with @miyokoscreamery smoked and regular mozzarella cheese and @violife_foods Colby cheese shreds. Sprinkle pepper and a little paprika
Top off with the extra macaroni noodles and top with @miyokoscreamery smoked and regular mozzarella cheese and @violife_foods Colby cheese shreds and a little pepper
Set in the oven covered for 30 minutes and uncovered on broil for less than 1 minute checking constantly.
Voila!
BBQ Tofu Steaks
Chop your tofu into thick blocks and wrap in paper towel and place a heavy object on top for 15 minutes
Take out of the towel and create a diamond design on top of each tofu block and season with liquid smoke, oil, smoked paprika, garlic and salt/pepper and place in the air fryer for 15 minutes @ 400
Once complete, top each tofu block with BBQ and enjoy!
Open Faced Sweet Potato
Preheat oven to 400
Cut your sweet potato in half and cover with olive oil and place on a cookie sheet
Add brown sugar, sugar and cinnamon to each potato
Set in the oven and roast until tender – about 30 minutes
Baked Beans
Start with a medium-sized pot add your oil, onions, and garlic and cook until fragrant!
Add in your Beefless beef and cook for five minutes – add in your baked beans bring to a low simmer and voila!
Corn
Clean corn thoroughly and remove excess hairs
Add butter and seasonings and cook @ 375 for 25 minutes and broil for less than 1 minute
Kale Salad
Wash your kale ( even though pre-washed) and season with salt, pepper, lemon, and oil
Make your croutons by buttering sourdough bread with earth balance, adding garlic powder and oregano and broil until crispy. Chop into crouton shape and add to kale
Chop up your walnuts, apples, and onion and place on top
ENJOY