Ohhhhh my goodness, guys – I have to admit I have outdone myself this time!! So incredibly simple and delicious – the hardest part is allowing it to cool down before you eat it all!! I know a lot of people use garbanzo beans as the substitute for vegan chicken salads but I felt that jackfruit has the perfect shredded chicken consistency! Why has no one ever thought of this before! Or maybe they have and I'm tooting my own horn – toot toot! Everyone enjoy this recipe – I know this will be a staple at the blkandvegan residence. Oh and Fabio approves!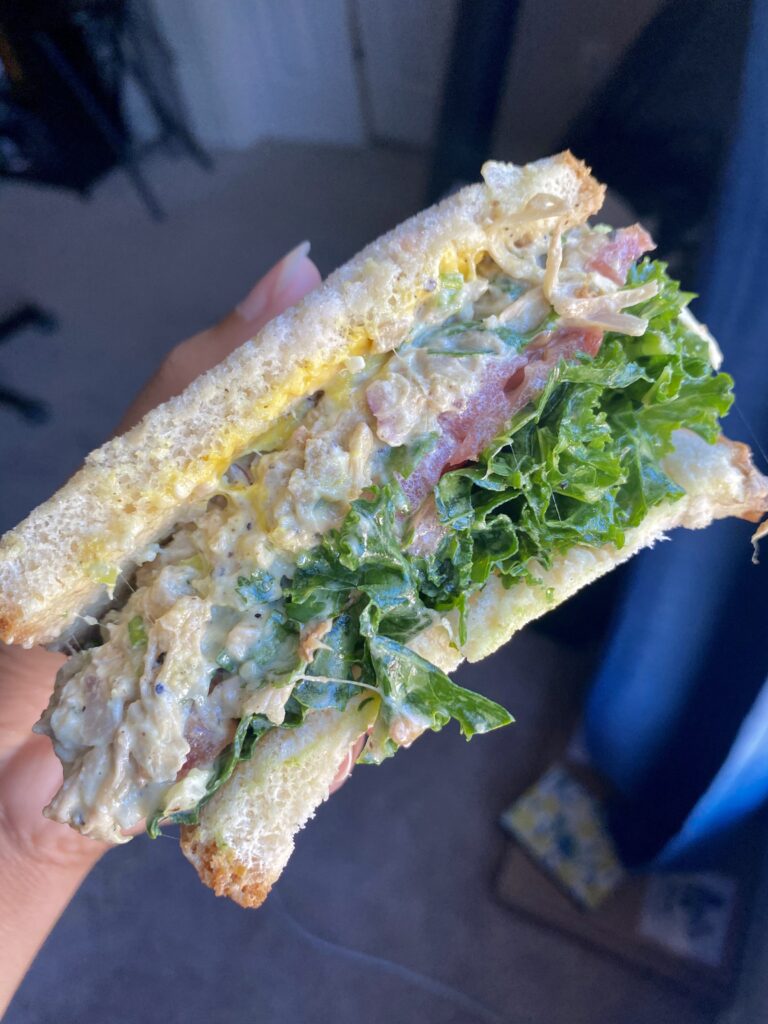 BOMB.COM CHICKEN SALAD!
Course: Lunch, dinner
Cuisine: American
Quick, easy and delicious!!
Ingredients
Chick'n

1 can jackfruit

2 springs fresh thyme

1 spring fresh rosemary

2 cloves fresh garlic

2 tbsp olive oil

2 tbsp vegan butter

1 tbsp vegetable broth

2 – 3 tsp Trader Joes chicken-less chicken seasoning

1/2 tsp fresh pepper

1/2 tsp salt

Chick'n Salad

Veganaise – (enough to cover)

1 tsp mustard

1 spring green onion

1/4th red onion

handful of fresh cilantro
Directions
Chick'n Prep
Begin by draining, washing and shredding your jackfruit, ensuring you take out the seed-like buds and just leaving the shredded jackfruit texture behind.
Pat dry your jackfruit – COMPLETELY!
In a medium skillet, add in your olive oil, butter, garlic, thyme and rosemary and cook until fragrant (about five minutes)
Add in your jackfruit and season with your chicken-less seasoning, salt and pepper and cook for about 8-10 minutes on medium heat adding in your vegetable broth halfway through to ensure that its absorbed by the jackfruit. IMPORTANT – YOU DON'T WANT ANY EXCESS JUICES.
Place your jackfruit in the fridge for at least one hour – better longer!
Chick'n Salad
Grab your jackfruit out the fridge and add in your Veganaise (enough to cover your jackfruit) and mustard
Chop your green/red onion and cilantro and add to your jackfruit bowl
Thoroughly mix and add in salt and pepper to taste!
ENJOY! On a sandwich, salad or wrap!
Notes
Feel free to place chicken salad in the fridge for later use!