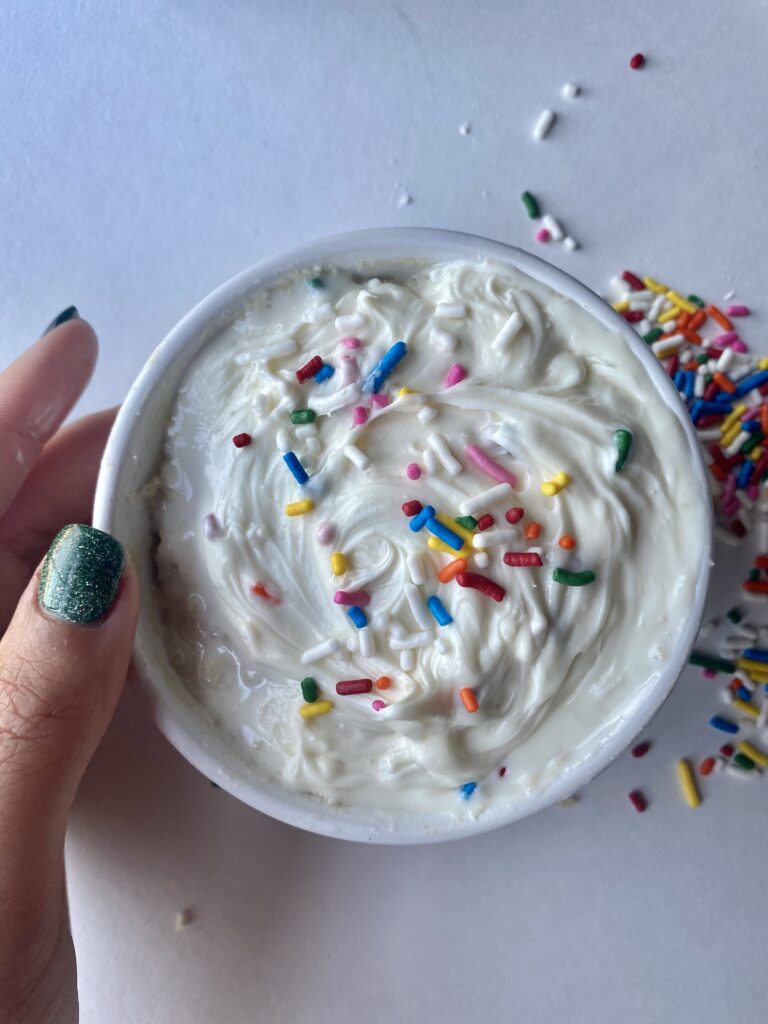 Let's paint a picture: you're home alone and you're about 15 minutes away from watching the new Bachelor. You already have eaten dinner and have your wine set up but now you are missing something sweet. Introducing the answer to all your problems – the 90 Second Vegan Mug Cake!
90 seconds, NO fuss, NO egg replacements, just simple ingredients we all have in our homes! SWEET BLISS! I have made this cake countless times and it is a beginner-friendly way to enjoy a personalized vanilla cake! AKA bulletproof!
Now, since I've made this cake a billion and one times, I know all the ways you can mess this pup up. The golden rule will be to use a mug that is wide, not too skinny otherwise the bits will fall out while you microwave it. Other than that, feel free to have fun with the recipe! You can add some cinnamon for a snickerdoodle cake, or pumpkin spice seasoning for a "pumpkin spice cake' or even keep it simple and top with strawberries for a strawberry short cake. I guess you can say, this recipe is universal!
This cake is moist, fluffy, and freaking addicting. No one knew a little cake can have it all (or maybe I did). Spend your days and nights curled up in bed with this, and I promise you won't regret it! Feel free to top the cake with icing, fruit, vegan whipped cream, chocolate, vegan yogurt… the list goes on and on! So please, without further a due, enjoy vegan lovas.
Looking for a video on how to do this sweet mug cake? CLICK HERE. Looking for a more festive mug cake! CLICK HERE for my Pumpkin Spice Mug Cake.
90 SECOND VEGAN VANILLA MUG CAKE
Course: SNACK, BREAKFAST, DESSERT
Cuisine: American
Short and sweet.
Ingredients
4 tbsp all purpose flour

2 tbsp white sugar

1/2 tsp baking powder

Sprinkle of salt

3 tbsp vegan milk

2 tbsp oil

1 tsp vanilla
Directions
Combine all ingredients and stir until well combined.
Set in the microwave for 90 seconds or 1 minute and 30 seconds .
Top with whatever you would like!
Notes
DONT FORGET TO USE A WIDE MUG!