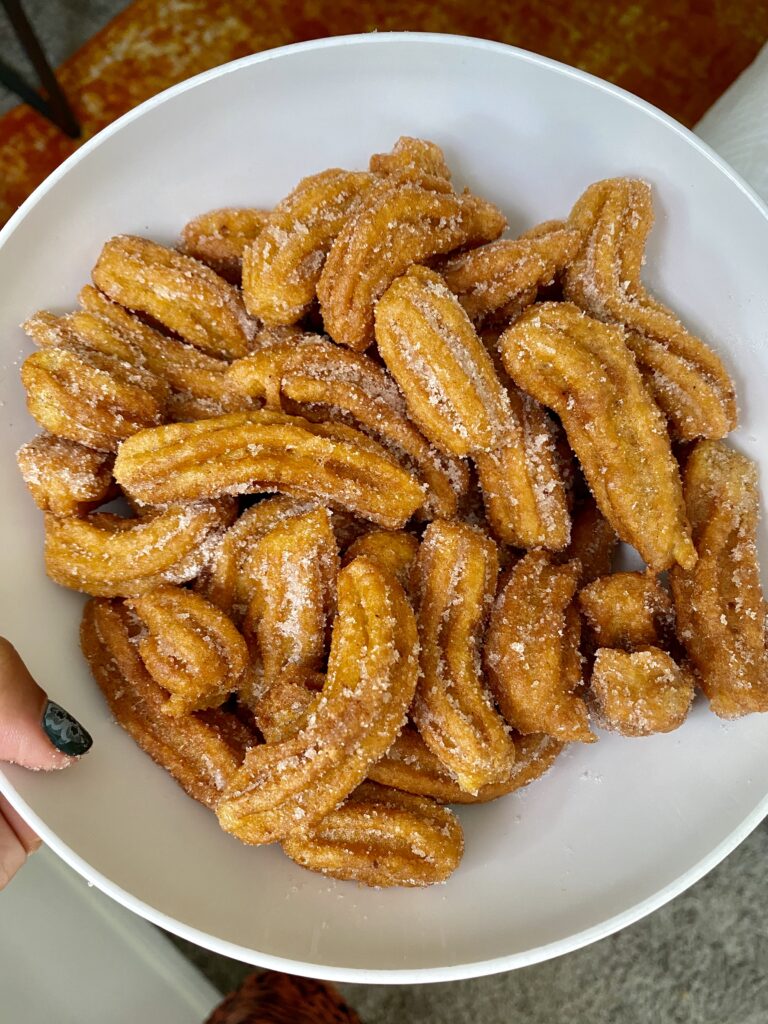 I mean look at these pups – they look and taste absolutely amazing! A recent vegan influencer posted all of her to-die-for recipes using vegan yogurt and I had to try it out for myself! And surprisingly, the Silk yogurt was the perfect binder for these pumpkin spice churros. Not only that, it created a moist inside and crunchy surface. Not to mention the pumpkin puree gave them the perfect fall vibe that we all need right now! #fallvibesonly
This is the perfect dessert for a date night, girls night, or a premier night ( Bachelorette anyone?) I am beyond excited to eat these while I watch – if I dont eat them before 8 o clock. I am totally drooling over these and I just know you guys will too. And did I mention this is a super cheap dessert? I didn't say this on my IG but the total dessert was around 8 bucks – now that's a steal! Anyways, enough of me gabbing – I hope you all love the recipe as much as I do because if I was Claire, these churros would definitely get my final rose.
5 INGREDIENT PUMPKIN SPICE CHURROS!
Course: Dessert, Breakfast, Snacks
Cuisine: Mexican, American
Difficulty: Easy
Crunchy, light, and deliciously pumpkin-inspired. Get prepared for your new family favorite!
Ingredients
1 cup @Silk dairy-free vanilla yogurt (2 individual serving size cups) See notes for my selections.

1/4th cup pumpkin puree

1 cup flour

1 tsp pumpkin spice seasoning

1/2 tsp baking soda

Sugar topping

1/4th sugar

1 tsp pumpkin spice seasoning
Directions
Begin by heating up either a deep fryer or a medium/large pot with vegetable oil.
In a medium sized bowl, add your yogurt, pumpkin puree and pumpkin spice seasoning. Mix until well combined!
Next add your flour, baking soda and a pinch of salt!
Add your mixture to a piping bag or you can use a large ziplock and cut the corner (you won't get the lined design but it will still taste amazing).
To begin, test your oil with a small portion of your dough. If it bubbles and rises to the top – your oil is ready.
Using your pipping bag and some scissors, begin to pipe out 1-2 inch lines into the hot oil – snipping the dough at the base of the pipper to end and begin the next churro.
Fry for 3-5minutes or until golden brown.
Combine all sugar topping ingredients and evenly toss them into the mixture as they come out of the oil. Enjoy with some almond milk, ice cream, or alone!
Notes
For my yogurt selections, I chose the almond and soy-based options and mixed them together! Feel free to choose any base.