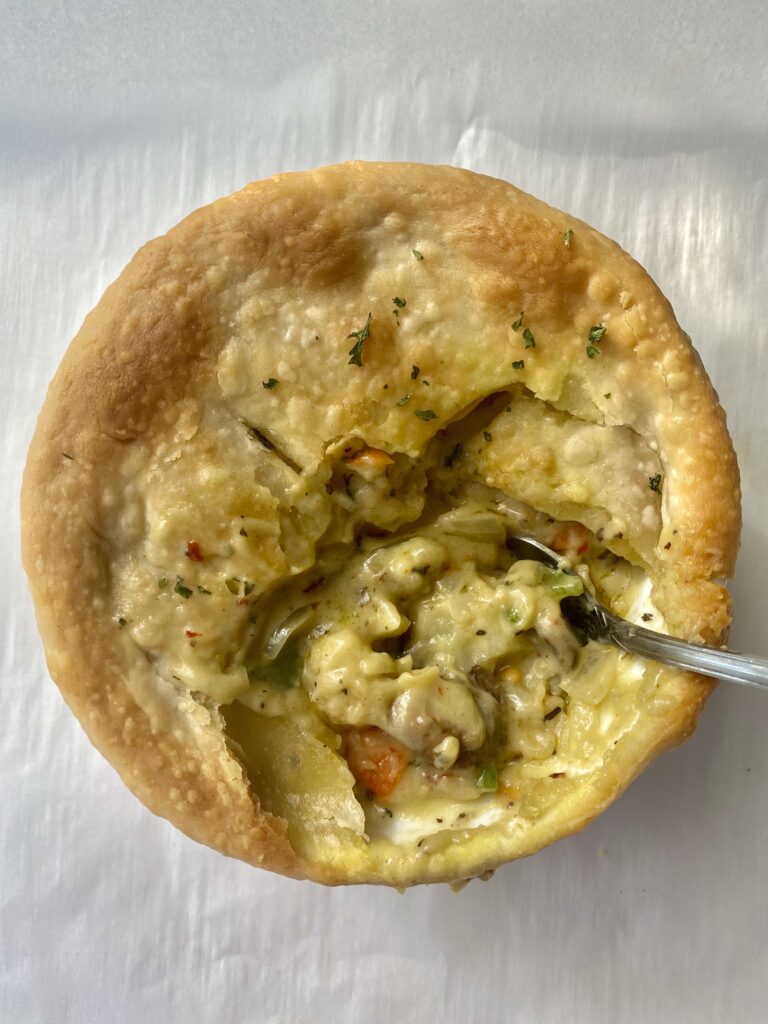 Ok let's be honest, this pot pie is TO DIE FOR! It's quick, easy, and vegan approved. Honestly, if you're looking to convert a meat-eater ( or at least impress them) I suggest making this pie!
This recipe started out by me bouncing around in my kitchen but you all loved it so much I had to upload this to my website for you guys to have this gem forever!
So here's the deal: this recipe is designed for a quick pot pie treat in a ramekin, but the filling can also be used for a traditional pot pie but the recipe below will not reflect that! Now that we're on the topic of filling I can fully express how creamy, flavorful and delicious this filling is. I made sure to fill it with vegan chicken, potatoes, carrots, mushroom and celery. Feel free to add peas and other veggies ( I just despise peas).
Also, let's get into some housekeeping. This recipe calls for pre-made pie dough. I know that can be hard to come across at the grocery store, or it can be hard to know which pie crusts are in fact vegan. Luckily, Marie Callenders is a popular brand that holds vegan pie crust in the frozen section. You can also use puff pastry or pre-packaged crescent rolls! There are a ton of options out there so you won't have to make your own dough, but if you are a dough guru like that you can also make your own dough!
Now that we have all the beautiful gushing and rules out the way. lets get into the recipe!
BEST EVER VEGAN POT PIE
Course: Dinner
Cuisine: American
Pie in a Pot!!!
Ingredients
1 small potato- peeled and diced

1 small carrot – diced

1 small celery – diced

2 cloves garlic

1/4th cup white onion diced

1 cup vegan milk – unsweetended

1/2 cup vegetable broth

Handful vegan chick'n shreds – I used Tofurky's Chick'n Shreds

Pre-made dough of choice

3 tbsp of flour

3 tbsp vegan butter

1 tbsp olive oil

Sprinkle fresh thyme and rosemary

Seasoingings

1/2 tsp vegan chicken seasoning – Trader Joes or alternative

1/2 tsp basil

1/2 tsp red chili flakes

Salt and pepper to taste
Directions
If your dough is frozen, take it out of the freezer and lay out to thaw.
Add your potato to boiling water and cook for 10 mins adding in your diced carrot the last 2 minutes and set aside.
Cook your chick'n according to package directions in a medium-sized pan and set aside.
In the same pan, add your tbsp of olive oil, vegan butter, rosemary, thyme, onion, and garlic – cook until fragrant ( 2 -3 minutes on medium heat).
Next, add your flour and whisk until you get a semi-thick paste, then add in your vegan milk and vegetable broth and whisk until you form a luscious gravy 
Add in your seasonings, chick'n, potato's, carrots, mushroom, and celery then cook for 5 minutes. Add to a ramekin and set aside.
Lay the dough out, place a bowl on top of the dough and slice the dough around the bowl creating a large circle.
Pierce 4 slits in the circular-dough, top that dough on the ramekin, crimp the dough around the edge of the ramekin, and add melted butter to the top of your dough
Place your pot pie on a sheet and bake at 450 for 13-15 minutes.