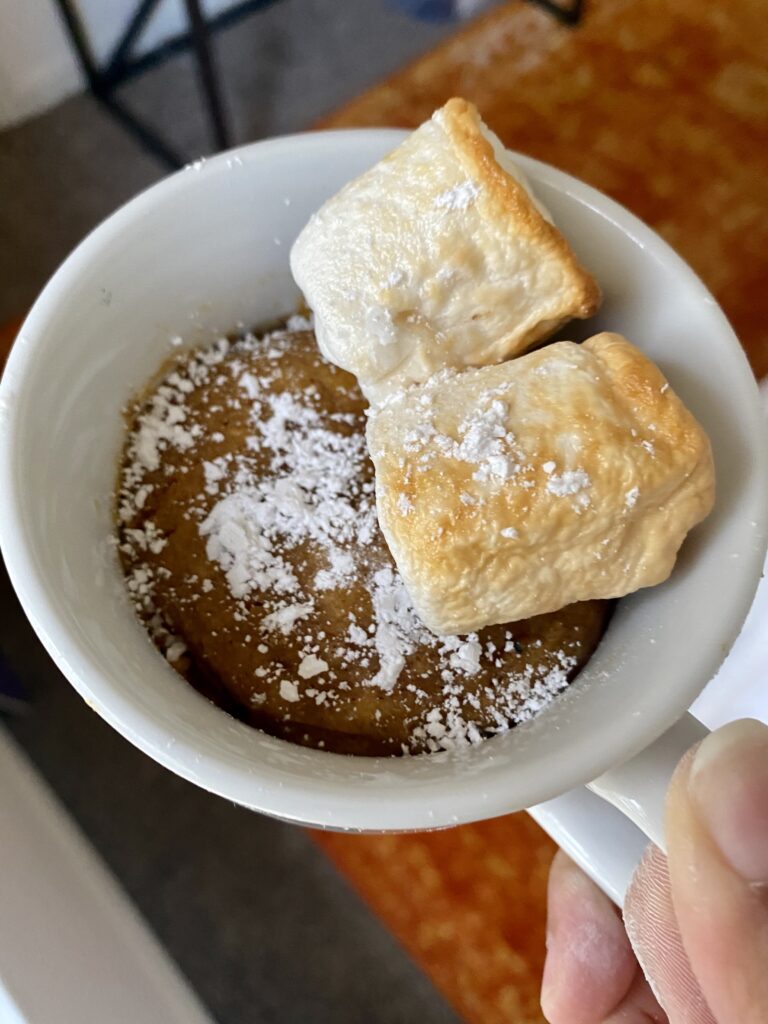 Vegan Lovas!!!! This is one of the recipes I am most proud of because it's quick, easy, and fall-inspired. I have been dedicated to making the perfect mug cake ever since I realized how tasty and efficient they are (I mean hello this is made in three easy steps!) Also, I have a pesky sweet tooth every now and then and this is the perfect dessert to sneak in the middle of the night (don't tell Fabio). Now, mug cakes are easy but take serious trial and error. I've made over 15 mug cakes that were almost there but not quite right. Therefore I have a ton of tips on how to make the perfect mug cake and I have broken it down into three easy rules.
First being: USE A WIDE LARGER MUG similar to the one I have posted below. The reason being the smaller and more delicate, the more likely the cake will ooze out in the microwave process (trust me I have seen it). It's best to be safe and use a wider mug to ensure you dont have to pick up your mess. I mean who wants to clean after their midnight snack?
The second being: MASH YOUR PUMPKIN BEFOREHAND. Even if it's already in a puree form its easy to sometimes have clumps. Trust me just mash your pumpkin prior to putting it in the mug with the other ingredients. It only leads to clumps and we don't want that! We want a smooth, fluffy, and moist texture!
Third and Last: Allow your mug cake it rest before digging in. I know, I know… it's tempting but allowing it to cool before digging in gives it time to set and enjoy! It'll all be worth it in the end when you're in bed watching Girlfriends ( oh Joan, we are here for you girl) eating your perfect pumpkin spice mug cake.
Ok! Now that all the rules are out the way we can get into the recipe! I promised I wouldn't become one of those bloggers that gabbed too much before the recipe! Enjoy vegan lovas, I know I did!
5 MINUTE PUMPKIN SPICE MUG CAKE
Course: Dessert
Cuisine: American
Difficulty: Easy
The perfect treat for all the pumpkin heads out there!
Ingredients
3 tbsp pumpkin puree

3 tbsp vegan milk ( I used almond)

2 tbsp maple syrup

1 tbsp brown sugar

1 tsp vanilla

1/2 -1 tsp pumpkin spice seasoning

1 tsp oil ( I used coconut oil)

4 tbsp all purpose flour

1/2 tsp baking powder

Pinch of salt
Directions
Begin with mashing your pumpkin puree until smooth at the bottom of your mug. Add your vegan milk, syrup, brown sugar, vanilla, pumpkin spice seasoning, and your oil. Mix until combined!
Next add your dry ingredients: flour, baking powder and pinch of salt. Stir until just combined and smooth!
Add it to your microwave and cook it for 2 minutes! Once completed, allow it to cool for 2-3 minutes before digging in. Top with marshmallows, whip cream, icing or ice cream!