Sounds strange, tastes DELICIOUS. Honestly I was blown away with this one! This pizza is topped with Beyond Meat crumbles, spinach, onions, garlic and HOMEMADE vegan ricotta cheese. This was my first go at pizza with a sweet potato base and creating my own cheese. It came out better than expected!!! Inspired my favorite pizza from @true_food_kitchen and topped with some good ol' cilantro. The only thing left to do is grab my wine glass! Look below for details. Video on how to here!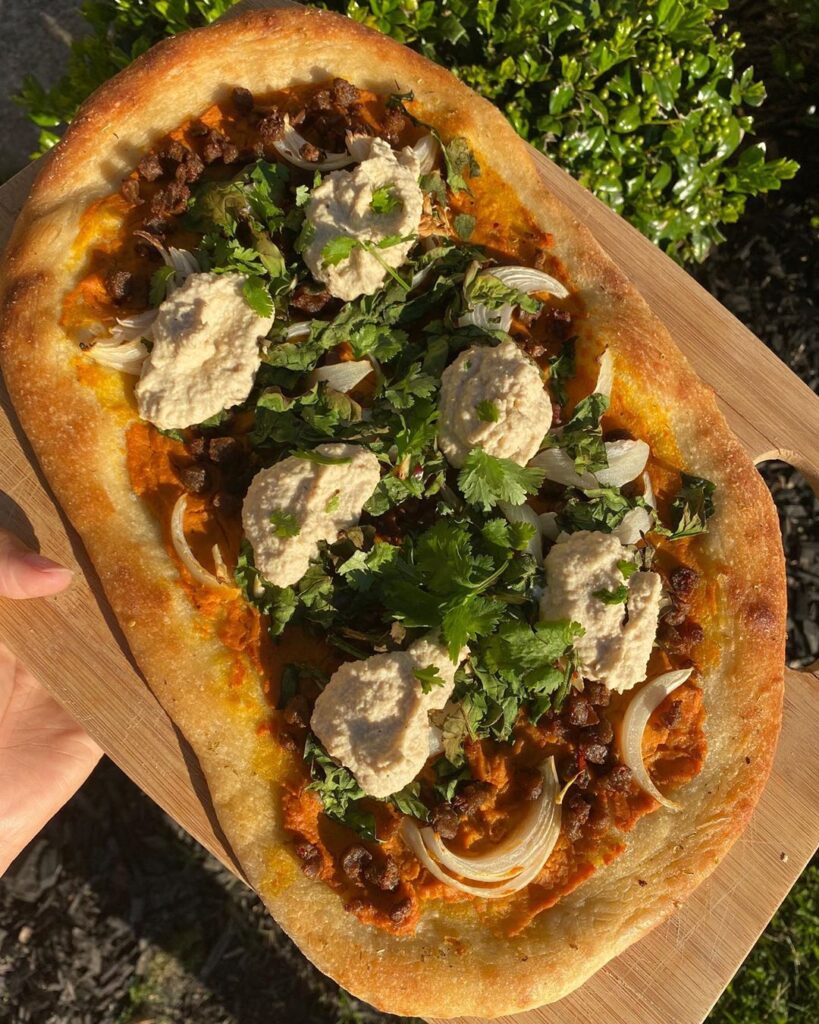 SWEET POTATO PIZZA
Course: Savory, Lunch, Dinner
Cuisine: Italian
Delish!
Ingredients
1 large sweet potato

1/2 cup vegetable broth

1 cup spinach

Half of one large onion

1/2 thinly sliced garlic

Beyondmeat feistycrumble

1/2 cup vegan butter melted
Directions
(Make sure to let your dough rest 30 minutes before preparing dough)
Peel, cut and boil 1 large sweet potato
Once tender with a fork, drain and place into blender along with your choice of seasonings ( I chose paprika, cinnamon, salt&pepper, red chili flakes and a pinch of oregano) & vegetable broth.
Blend and set to the side
Meanwhile, prepare the beyond meat on the stove to your preferred liking
Chop onion, garlic and spinach and set to the side
Work your dough into your preferred shape, and oil to your sheet pan then add your dough to the sheet
Add sweet potato base and toppings
Place in oven for 8-12 mins basting the crust with melted vegan butter
Notes
I got my vegan ricotta cheese recipe from The Simple Veganista's blog. I'm still playing around with different recipes so I don't want to fully endorse one yet. Feel free to find your own recipe or buy from the store!