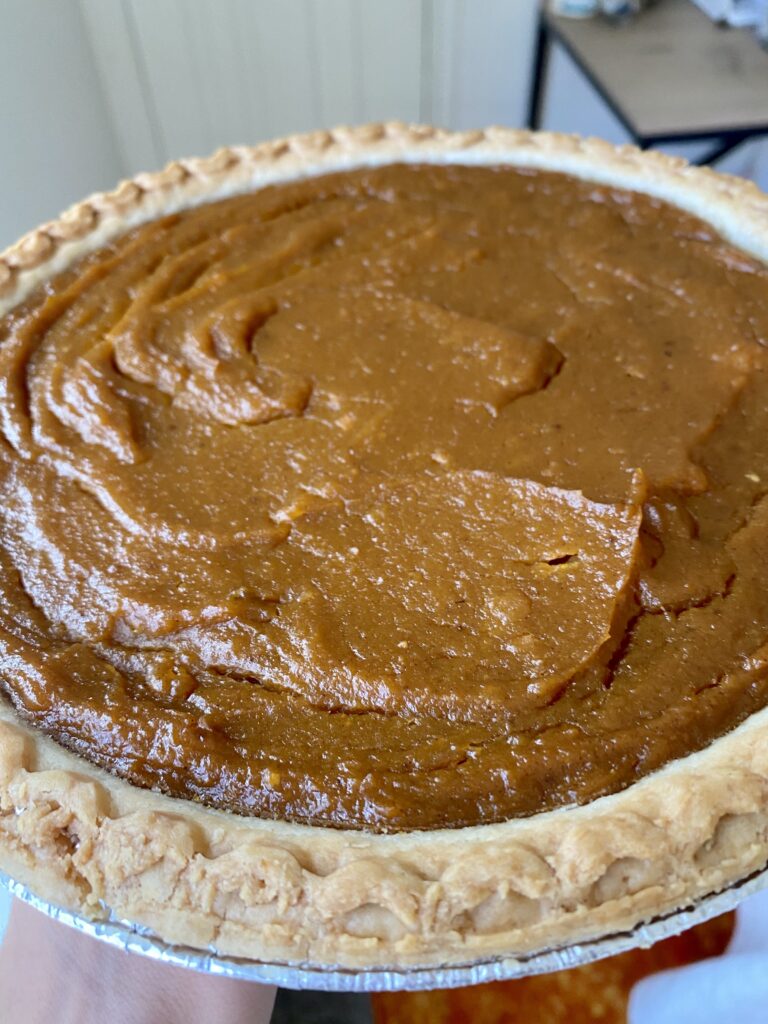 I know, I may be a tad late to the party BUT ya girl showed up and showed out! This pie is a family tradition. My grandpa would make at least 4 of them every Thanksgiving and this pie always brings back fond memories. I truly hope this pie either sparks your memory or brings new ones to your family tradition.
Now, this pie is seemingly super simple, but it is important to note a few things. PLEASE READ THIS BEFORE YOU BEGIN!
No substitutions. I know, we all want to make a recipe "work" with the things we have, but trust me, you don't want to remix this pie. You want to follow each direction ( although simple) to a T. Please do not change the ingredients. I have done so myself and it has ended in disaster.
I know I said this above BUT the cornstarch can not be substituted. That's what's going to hold this pie since we dont have any eggs – not even a flax egg, holla!
DO NOT BLEND YOUR MIX. Overmixing can lead the pie to not set! Using a fork will do this pie justice.
Allow your pie to cool before digging in! As I said, there is no egg. So you want all of it to cool so it can completely set.
Cover your pie with Reyonalds wrap during the baking process to keep it from overcooking. Trust me, covering the pie for the first 20 minutes allows it to get that perfect texture and doesn't have that overbaked texture that tends to happen when you don't wrap it.
Ok, now that the business is out the way – we can let our hair down. Please comment below and let me know how you like this pie! I truly think this one is a winner!
VEGAN SWEET POTATO PIE
Course: Dessert
Cuisine: American, Southern
Difficulty: Easy
Tradition in a pie
Ingredients
2 cups boiled and mashed sweet potato

1/2 cup brown sugar

1/2 cup cinnamon apple sauce

1/2 cup vegan milk

1 tbsp maple syrup

1 tbsp vanilla extract

1 tsp pumpkin pie seasoning

Sprinkle salt

3 tbsp corn starch

1 pre-made pie crust
Directions
Preheat your oven to 375 degrees
Peel and dice 2-3 sweet potatoes and boil until tender
Take out your pre-made pie crust from the freezer and let sit 15 minutes
Next, mash your potatoes and add all of the ingredients above (except your pie crust of course) Mix until well combined!
Now, take a fork and place holes around the edges and center of your pie crust!
Add your sweet potato mixture and set on the middle of a sheet pan
Cover with a loosely tightened Reyonald's wrap and cook for 45 minutes. 20 minutes covered, 25 uncovered.
When the pie comes out of the oven let it sit for 30 minutes to 1 hour to cool.
Enjoy!