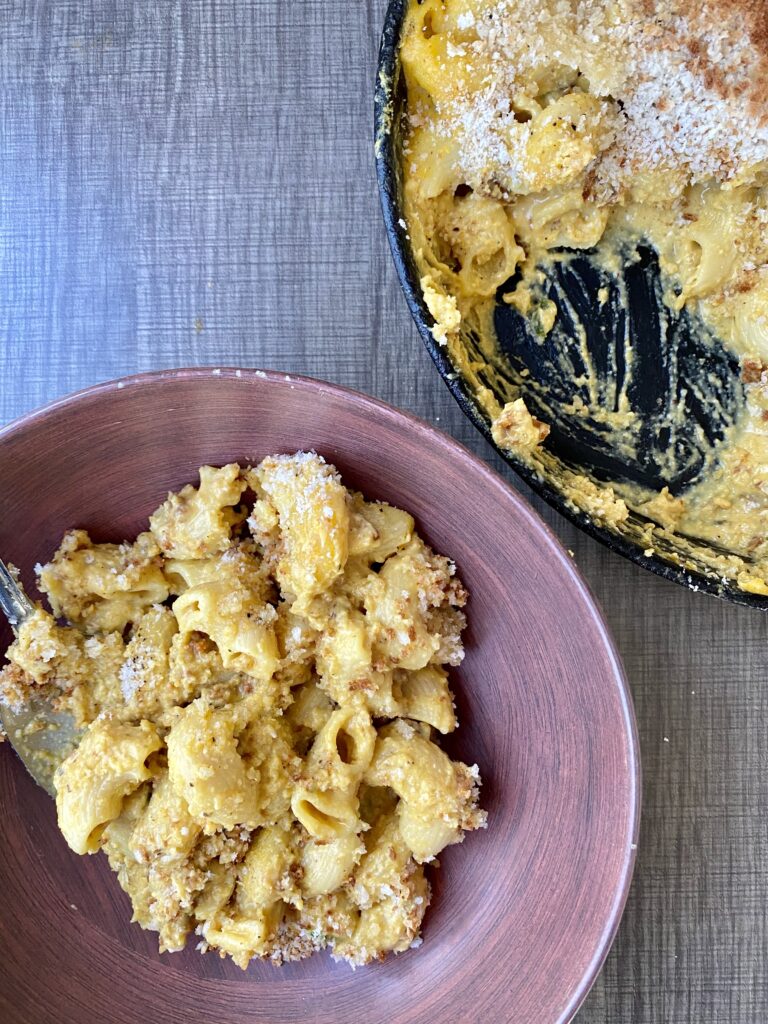 With Thanksgiving right around the corner, it's time to get our Mac on. I have seen a billion renditions of classic vegan mac and cheese, but none that had flair! *Cue the Aquarius* I mean this is such a nontraditional year who needs a traditional mac and cheese?
It was my personal goal to provide something tasty, unique, and outright delicious! Something that anyone can be proud of! Let's face it, our families know we are vegan and the spotlight will be on us this holiday season. Let's tackle that with some delicious vegan food even your meat-eating cousin will enjoy. I mean who doesn't love bacon!
Now, this recipe is totally customizable. If you are not into bacon, or can't find it in the store, feel free to sub and make this a "Jalapeno Mac and Cheese" or you can keep it classic and omit the jalapeno and bacon and make a "Classic Mac and Cheese". Either way, this will knock your socks off!
After looking at the ingredients list you may be thinking, " What in the world was Emani thinking!" but just trust me and the process! This mac is worth seconds and maybe thirds. Enjoy Vegan Lovas!
BACON – JALAPENO MAC AND CHEESE
Course: Dinner, Side Dish
Cuisine: American
Difficulty: Easy
Bacon. That's it.
Ingredients
Cheese Sauce

1 cup boiled cashews ( see notes for details)

1/2 cup pumpkin puree

1/2 cup nutritional yeast

1/4 cup vegan cream cheese

1 1/2 cup coconut milk (full fat)

Water to thin as needed

4 garlic cloves

Splash of lemon juice

Cheese Sauce Seasoning

1 tsp garlic powder

I tsp soy sauce

1/2 tsp mustard powder

1/4 tsp smoked paprika

1/4 tsp regular paprika

1/4 tsp dried basil

1/4 tsp tumaric

Pinch of chili powder

Lots of salt and pepper

Bacon Jalapeño Mac and Cheese

4-5 strips Sweeter Earth Bacon – diced

1 whole jalapeño – diced

I cup vegan mozzarella cheese shreds (optional)

2-3 cups macaroni noodles

1 tbsp olive oil

1 tbsp butter

Topping

Panko Bread Crumbs

4 slices of butter
Directions
Cheese Sauce
Combine cashews, pumpkin, nutritional yeast, cream cheese, coconut milk, and all of the cheese seasonings in a blender. Blend until smooth. add water 1/4th cup at a time until you get the desired thickness.
Blend until smooth. add water 1/4th cup at a time until you get desired thickness. Set aside.
Bacon Jalapeño Mac and Cheese
In a medium size pot, boil your macaroni noodles until tender.
In a cast iron skillet ( or any oven safe pan) add your butter and olive oil and set to a medium high heat.
Add you bacon and jalapeño and cook until nice and fragrant ( 3 minutes or so).
Add your cheese sauce and vegan mozzarella cheese shreds.
Lastly add your noodles and mix until well combined. If it feels too thick – add some water to thin the sauce out. I suggest 1/4th cup at a time to test out the thickness as you go.
Once combined, add salt and pepper, your Panko bread crumbs to the top, and your butter.

Broil until you get a beautiful crispy top ( 1 minute) and enjoy!
Notes
HOW TO BOIL YOUR CASHEWS: Add 1 cup cashews to a pot with water. Set over high heat and boil for about 15 minutes!