Dinner tonight was amazingggggg – y'all have already seen in my story but I want to post here so you guys can have the details! Jackfruit enchiladas, spicy Mexican rice ,vegan refried beans and lastly we have the kale salad!!! ? oh wait!! forgot to mention – yes that is my quick and easy tofu feta! ?? the meat eaters in the house loved this meal!!! Oh and this meal is WINE PROOF ?- made it a little typsy dipsy and it went amazing! Check out the enchilada plate recipe below – you can check my story for the video on how to – I'll be sure to save it ?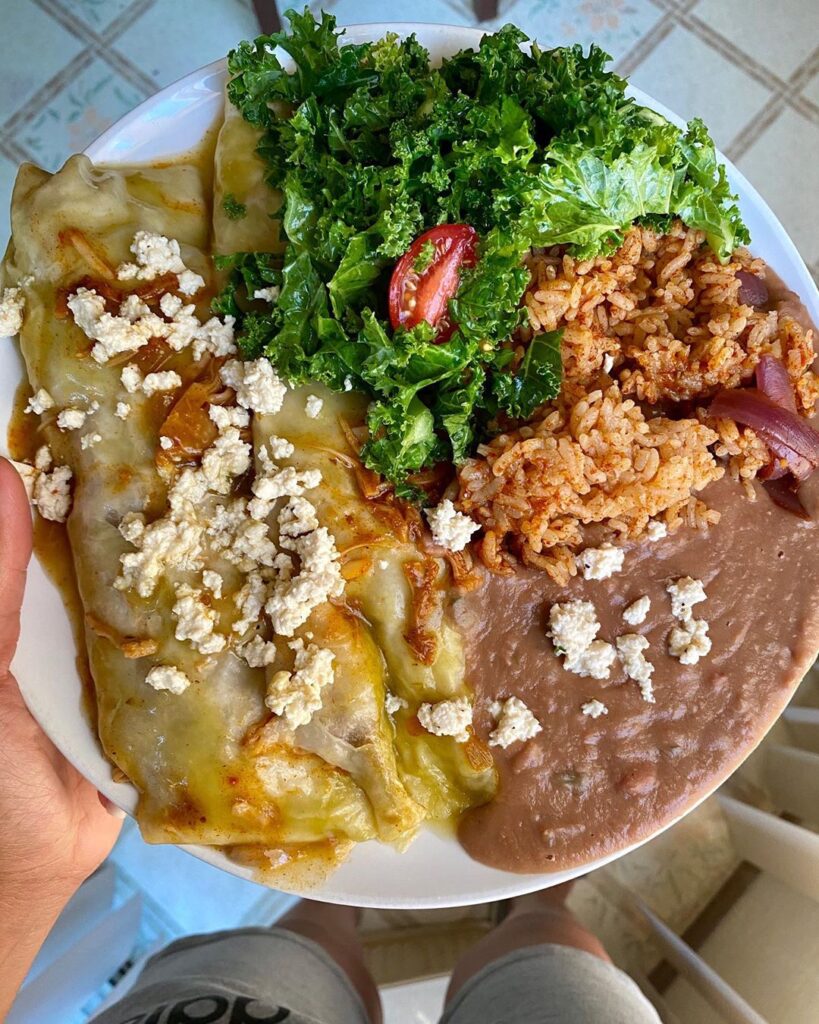 ENCHILADAS PLATE!
Course: Dinner, Lunch
Cuisine: Mexican
Enchiladas, beans, rice and salad! What more does one need!
Ingredients
Enchiladas

2 cans jackfruit, drained and rinsed

1 small can tomato sauce

1/4th white onion

1/4th green and red bell pepper

3-4 garlic cloves minced

1 can green Chile's

1 pack flour tortillas

1 large can green or red enchilada sauce

@fieldroast chao cheese (optional)

Jackfruit Seasonings: (to taste)

Cumin ( don't be shy)

paprika

oregano

garlic powder

red chili flakes

salt

pepper

pinch of cinnamon

Mexican Rice

1 cup white rice

1 Mexican seasoning packet

2-3 whole garlic cloves

1/4th roughly chopped onion

Beans

2-3 tsp olive oil

2 cloves garlic (minced)

1/4th onion (minced)

1 can spicy vegetarian refried beans

water to taste

Salad

Kale – medium pack

1/2 Lemon freshly squeezed

Pepper to taste

Salt to taste

A little olive oil

Cherry Tomatos to taste

Tofu Feta

1 slice tofu

1-2 tsp apple cider vinegar

salt, pepper & garlic powder to taste
Directions
Mexican Rice
Add rice, garlic, onion and Mexican seasoning pack with accurate amount of water according to your rice instructions and turn rice cooker on
Let it work its magic while you begin the enchiladas
Enchiladas
Drain your jackfruit and rinse under cold water while you break it down into a shred like consistency using your fingers! Once to your liking sprinkle cumin on top and set aside
Begin with 1 tbsp olive oil heated to a medium heat, next add your bell pepper, garlic, and onion and cook until fragrant
Add your seasonings and cook for another 2 minutes!
Next, add in your small canned tomato sauce and using that same can, add some water and pour water into the tomato mixture and bring to a boil
Add in your rinsed jackfruit and your green Chile's and lower to a simmer for 10 mins
Once simmer is complete, begin to load your tortilla shells with the jackfruit mixture and chao cheese and wrap tightly
top with green enchilada sauce and cook wrapped @ 375 for 25 minutes and 5 minutes unwrapped and donezo!
Beans
Begin with 1 – 2 tsp oil and once heated add your garlic and onion
Add in your can of beans and slowly add in 1/4th water until you get desired consistency
Heat and serve!
Notes
The Salad and Tofu feta are pretty self explanatory so I didn't feel a need to do a recipe break down!
Some advice for the tofu feta – you can always make it first and set aside in the fridge