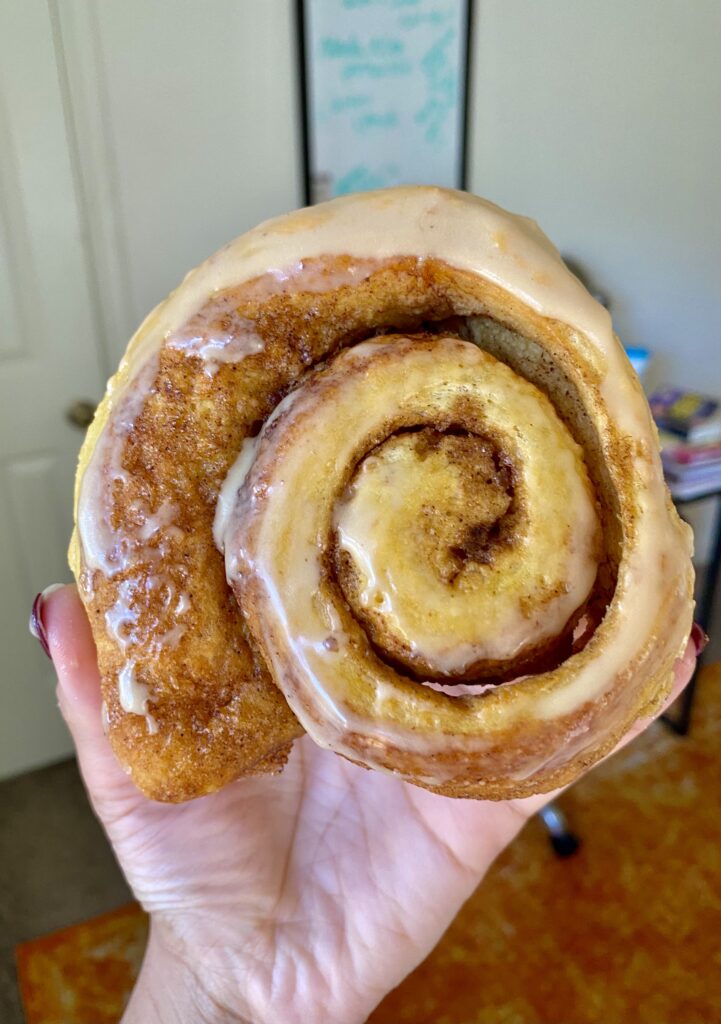 It's the most wonderful time of the year! Mariah Carey is playing, I have a golden reef on my door, and Fabio and I got Harry a matching set. You may have guessed, it's Christmas!
As a little girl, each Christmas my grandma and I would stay up baking 'Betty Crocker' cakes as my grandpa made us all sweet potato pies. As I got older, I began to have White Christmas parties and elephant exchanges with all of my friends. But this year is very different, it's different for us all. But different doesn't always have to be a bad thing! With this year coming to a close, it is safe to say that 2020 put a new spin on everything. So, why not have a new spin on a classic that we all know and love?
These rolls are light, fluffy, and flavorful. You will have so much fun crafting this (whether alone or with a group!). Honestly, my roommates couldn't get enough and that is always a tell-tale sign that I have gotten it right! I would enjoy these with some tea, apple cider, or hot chocolate! It's the perfect breakfast roll that is lightly iced and ready for dipping! I hope these rolls bring a classic spin on a family favorite! Details below. Oh and Merry Christmas you filthy animals!
GINGERBREAD ROLLS
Course: Dessert, Breakfast
Cuisine: Holiday, American
Ginger, cinnamon and spice – in a roll!
Ingredients
4 1/2 cup flour (plus more for working the dough)

1 packet active dry yeast

1 tsp salt

1 1/2 cup vegan milk

1/2 cup melted butter

1/4th cup white sugar

1/2 cup pumpkin puree

1 tsp fresh ground ginger


1 tbsp vanilla extract

Filling

1/2 cup vegan butter

1/2 cup brown sugar


1 tsp dried ginger seasoning – plus more for sprinkling

3/4 tsp cinnamon – plus more for sprinkling

1/4 tsp ground cloves

1/4 tsp all spice

1/4 tsp nutmeg

Icing

1 cup powdered sugar

2 tbsp vanilla

1 tbsp vegan butter
Directions
In a large bowl add your vegan milk and butter. Microwave until about 110 degrees ( about 2-3 minutes).
Add your pumpkin puree, grated ginger, 1 tbsp vanilla extract, 1/4ths cup sugar to the butter mixture and whisk until well combined! Ensure it is still around 110 degrees if not microwave together for another minute.
Next add your active dry yeast to the mixture, whisk and set aside for about 2-5 minutes while the mix gets frothy.
In a separate bowl – add 4 cups of flour, salt, and whisk.
Add your butter mixture to your flour and mix until well combined. Add 1/2 extra flour as you work your dough.
On a clean, floured surface knead your dough until you create a smooth ball ( if it still feels too sticky feel free to add more flour 1/4th cup at a time until you can make it a clean ball!) 
Place your ball into a lightly oiled oven-safe bowl. Cover with a towel and place in the oven on warm for 1 hour
Next, take your dough out of your bowl (should be doubled in size) and knead on a clean floured surface into a rectangle – using a rolling pin, roll your rectangle out into a 1/2 inch thickness
Combine all your filling ingredients and add an even layer to your dough! I like to dash cinnamon and ginger on top as well.
Roll at the base of the dough ( tightly but gently) until you get a giant log – trim off uneven tips and begin to slice your log into 2-inch rolls and set on a oiled cake tin
Once again, cover your cake-tins with a towel and set them in the oven on warm for 30 minutes for their final poof! Almost done!
Now it's time to bake! Set your oven to 350 and set your perfect rolls in the oven for 25 minutes and voila!
To make the icing, combine all ingredients and pour on top of your rolls fresh out of the oven!